Upcoming Tournaments
Powered by
Nakamura-led Seattle Sluggers Slide Past the Hackers
Posted: 2 years, 5 months ago
By IM Vignesh Panchanatham
The San Jose Hackers came into the penultimate round last Saturday after a strong performance in the second and final Super Saturday a week before. Sitting in fifth place in the Pacific Division, they had a chance to vault into the playoffs with a successful result. The Hackers were matched against the Seattle Sluggers, who were eliminated from playoff contention, but still looking to avoid relegation.
The Hackers fielded the lineup of GM Daniel Naroditsky, GM Zviad Izoria, IM Cameron Wheeler, and Faik Aleskerov. The Seattle Sluggers countered with GM Hikaru Nakamura, GM Giorgi Margvelashvili, IM Bryce Tiglon, and Andrey Chjumachenko.
Round 1: 2.5-1.5 Hackers
Aleskerov vs. Nakamura (0-1)
Wheeler vs. Margvelashvili (1/2-1/2)
Tiglon vs. Izoria (0-1)
Chjumachenko vs. Naroditsky (0-1)
The Hackers swung into a slight early lead with a strong first round. IM Wheeler was able to pull off an upset draw against GM Margvelashvili. GM Naroditsky and GM Izoria took care of business on the top two Hacker boards. Unfortunately, GM Nakamura defeated Aleskerov.
Round 2: 2-2 Tie
Nakamura vs. Wheeler (1-0)
Margvelashvili vs. Aleskerov (1-0)
Naroditsky vs. Tiglon (1-0)
Izoria vs. Chjumachenko (1-0)
In the second round, neither team made any headway. All of the "expected" results occurred, with the higher rated players winning on every board. GM Nakamura and GM Margvelashvili beat IM Wheeler and Aleskerov respectively for Seattle. GM Naroditsky and GM Izoria gave the Hackers their two wins to even the score.
Round 3: 1-3 Sluggers
Izoria v. Nakamura (1/2-1/2)
Naroditsky v. Margvelashvili (0-1)
Tiglon v. Aleskerov (1-0)
Chjumachenko v. Wheeler (1/2-1/2)
The Hackers went into the third round with a slight lead and were looking to expand it. However, it was not to be. GM Izoria was better against GM Nakamura, but was unable to bring in the full point. IM Wheeler drew against GM Chjumachenko with black. Unfortunately, both GM Naroditsky and Aleskerov were defeated in this crucial round.
Round 4: 2-2 Tie
Nakamura v. Naroditsky (1-0)
Margvelashvili v. Izoria (1/2-1/2)
Wheeler v. Tiglon (1-0)
Aleskerov v. Chjumachenko (1/2-1/2)

With the match on the line, the Hackers needed to win this round. GM Izoria continued his solid performance with a draw with black, and IM Wheeler strengthened his debut performance with a win over IM Tiglon. Aleskerov drew with Chjumachenko, but with GM Naroditsky's loss to GM Nakamura, the Hackers' comeback was shut down.
Man of the Match: Zviad Izoria
GM Izoria has been perfoming solidly throughout the Pro Chess League season, and this match was no different. He was the sole Hacker to nick GM Nakamura, and didn't give up a loss all night. Congratulations Zviad!
Final Score: 7.5-8.5 Sluggers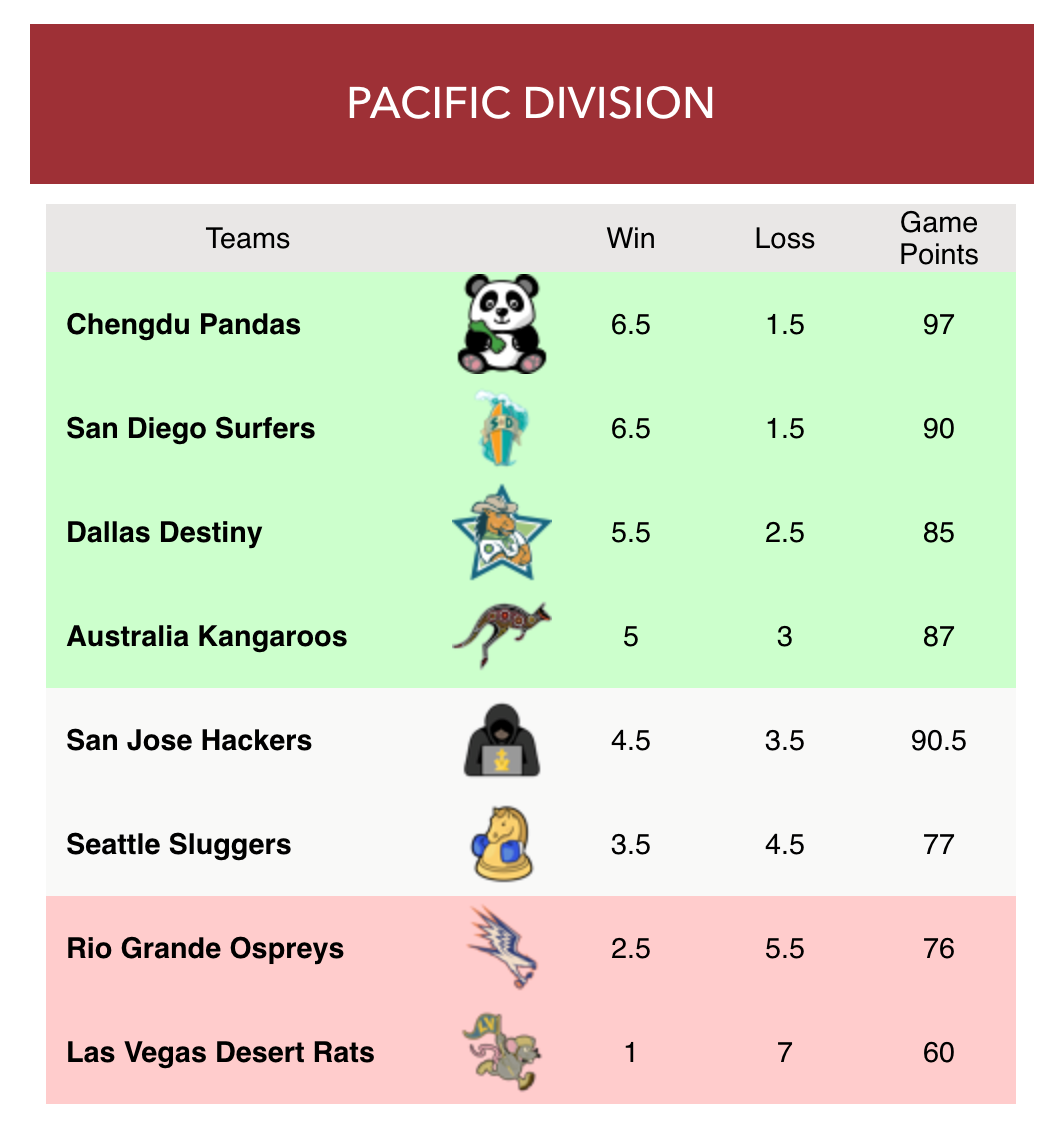 While the loss sets the Hackers back, they are by no means out of the playoff race yet. Still in fifth place by team points with a dramatic lead in game points, the Hackers can overtake the Dallas Destiny, the Australia Kangaroos, or both next week.
With a win this Wednesday night against the San Diego Surfers and some help from the Rio Grande Ospreys and the Las Vegas Desert Rats, the Hackers could be in the playoff mix! Congratulations to the Chengdu Pandas and San Diego Surfers for securing the first two playoff spots in the Pacific Division.
Follow the game live starting Wed March 7 at 6:10 pm PT at www.Twitch.TV/HelloKostya
Share on Twitter
Share on Facebook